Since day one, I've been working on Search Engine Optimization (SEO) with my current company Scrapingbee. I started writing the first blog post two months before launching the product.
I have always been amazed by SEO. The idea of people coming automatically to your website is very appealing, considering how hard it can be get attention from potential customers.
Before launching our company with my lifelong friend and now co-founder Pierre, we made lots of experiments and side projects together. Most of the time, here is what the traffic looks like when you launch: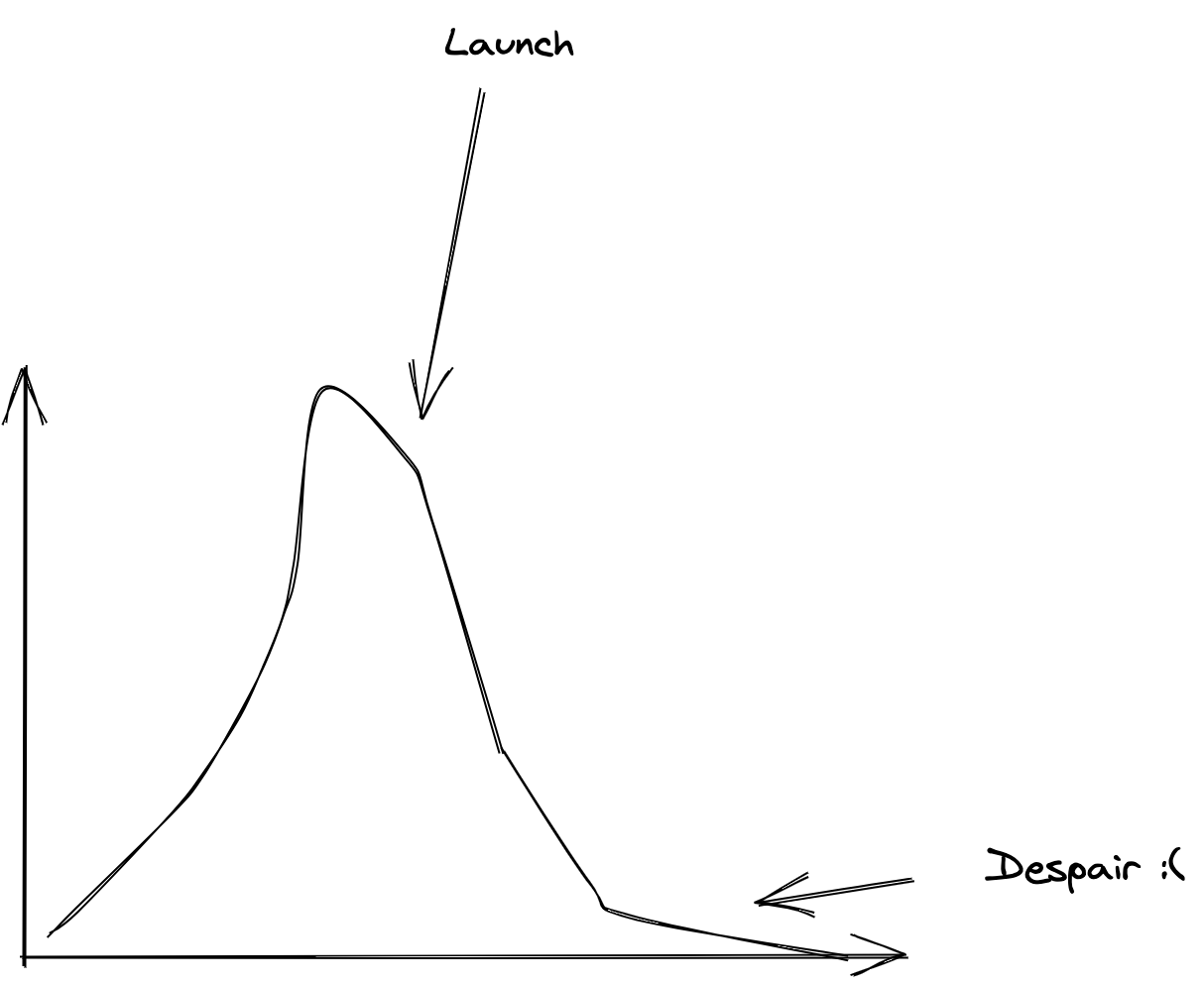 This is typical after launching on Product Hunt, Hacker News, Reddit or any other platform. A successful launch will bring you tons of short-term traffic, feedback, and some sign-ups, but the traffic quickly fades and returns to almost zero.
The same thing will happen to your content if you don't have SEO in mind.
That's why SEO is so important. If done well, it compounds, and your traffic will grow over time.
Paul Graham famously said:
Most startups fail because they don't make something people want.
That's true in the VC-backed startup world 🦄.
But is it valid for bootstrapped SaaS companies working in a proven market with successful players?
One of the main reasons bootstrapped SaaS founders fail is the lack of traffic, especially when the founder is a developer.
Developers hate marketing and mostly want to build their products and code all day long. They would rewrite their code base to get rid of technical debt or test a new framework rather than try to attract traffic to their site.
Hopefully, I realized this early on,. The idea of having a system where people could find us automatically on Google and become customers made me very excited about learning SEO.
So in this article, I will explain my experience with it and the different resources I used to learn.
First SEO experiments
I launched my first blog in 2015/2016. At the time I was a software developer at a French startup and was working on web data extraction. I enjoyed scraping the web and what I was learning at my job, so I decided to create a blog and publish technical articles about web scraping.
I wrote about five articles in the first six months, and it quickly ranked well on Google, averaging 4000 visitors per month.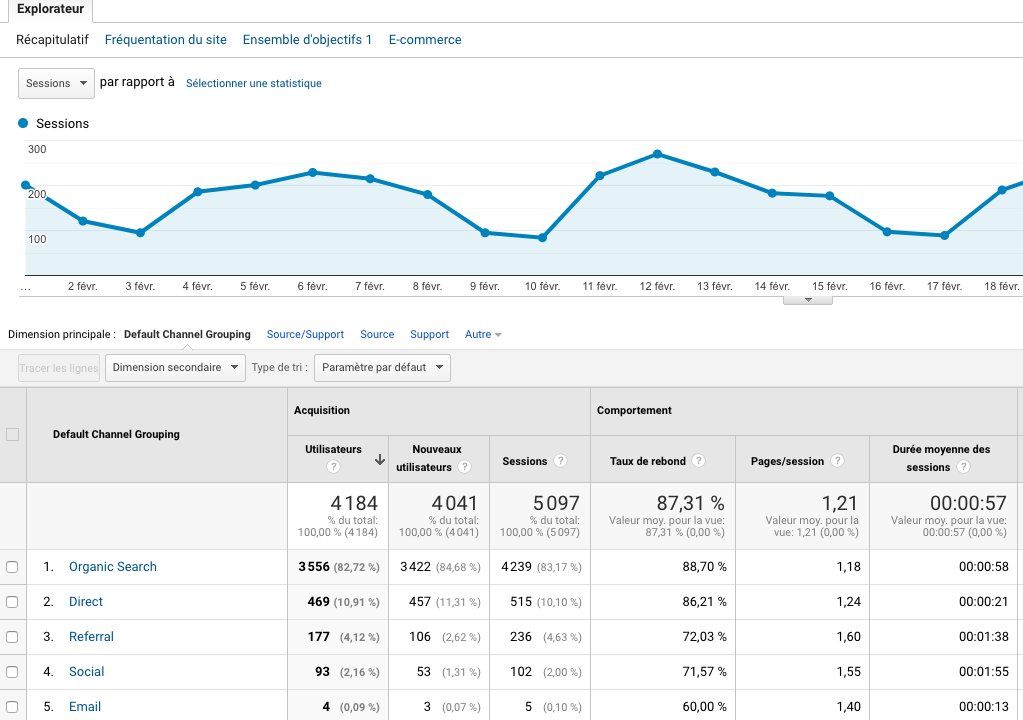 Since I knew nothing about SEO at the time, I didn't make anything special to make those article rank. I got lucky with two things: First, the topics I wrote about had massive search volumes. And second, I got some traction on Hacker News and Reddit, and it got me some great backlinks (for example, on Jetbrain's blog!).
I received lots of feedback about my blog posts from readers wanting to know more about web Scraping, so I even decided to publish a book about this:
The thing is, I didn't really know what I was doing. I just wrote quality content, people were linking to my content, and Google seemed to like it.
Then in 2018, we launched https://www.pricingbot.co/. We did some successful SEO experiments with it that Pierre explained on this blog: https://www.daolf.com/posts/selling-saas-in-serbia/.
But it's really with ScrapingBee that I started to learn SEO seriously.
Learning resources
One of the most challenging things I ran into while learning SEO was where to start?
There is tons of content, free blog posts, paid courses, and Youtube videos... Many SEO gurus give contradictory advice, so knowing where to get the information and who to trust can be tricky.
Here are the top four resources that I used:
The Moz guide is an exceptional resource that covers almost everything, from what to write, how to do keyword research, getting backlinks, and technical SEO. It's an excellent SEO foundation.
The Ahrefs course (now free and used to be several hundred dollars) is explicitly aimed at business owners who want to leverage their blog to get customers (that's me 😎), and it is AWESOME.
I really like their blog, too: https://ahrefs.com/blog/. If you don't know where to start, look at their ⭐️articles, it's the best ones!
The SEO blueprint is an excellent course by Glenn Allsopp. It covers many SEO subjects with an angle you won't find anywhere else. After all, you cannot expect exceptional results by doing the same things everyone else is doing. Glenn will teach you to think outside the box for your content, link building, and everything in between.
TrafficThinkTank is a paid private Slack community of SEOs + online courses. I learned SO MUCH with them, and it's cool to have experts answer your questions, especially when you're a beginner reading contradictory things. There are many people from the SEO industry (SaaS like Ahrefs, agencies, freelancers, link builders, content writers, and so on). It's really worth the $100/mo.
At the end of the day, I would say that the two most important things I learned were how to write good content people search for and how to build links to our content.
Tools
You don't need a lot of tools for SEO.
Initially, I used https://neilpatel.com/ubersuggest/ and different free tools to track my competitors' backlinks. This was nice to get a general overview of my competitors' ranking and backlinks, but it's not good enough if you want to take things to the next level.
If you can afford a $99/mo subscription, I HIGHLY recommend that you sign up at http://ahrefs.com/.
I'm in no way affiliated with Ahrefs, but I really love this company and its product.
Ahrefs will help you with many things. For example, you will be able to perform keyword research (to get an estimated monthly search volume for a given keyword, as well as an estimation of how hard it will be to rank for this keyword). It will also help you with link-building and many other essential tasks.
If you only need one tool, it's Ahrefs.
Screaming frog is an SEO crawler. I use it to audit ScrapingBee (broken links, internal link opportunities...) and third-party websites, for example, to build links.
Grammarly is another critical tool we use, especially when writing content ourselves. This is important since I'm not a native English speaker.
Results
In the first year after launch, the traffic scaled very quickly:

We got hit badly by a Google core update in early 2021, but we recovered after a few months.
We published a lot of content, at least two or three articles per month.
In the past few months, we crossed 100k organic hits / per month.
Final thoughts
A few years ago, I was much more interested in building products rather than promoting and selling (i.e., building systems)
Learning SEO has been my favorite hard skill to learn as a (mostly) bootstrapped SaaS founder.
If you like metaphors, we could say that Sales is like fishing, and SEO is like digital gardening. It's a calm, repeatable process that is slow but compounds over time. I think I love it because it fits my personality.
In a future blog post, I will explain how I scaled the content creation process and started hiring technical content writers.
If you enjoyed this article and want to get informed when I publish another one, you can follow me on Twitter (DMs open!) and subscribe to my newsletter.